fashion
movie
MUSIC
OOTD
OFF WITH HER HEAD!!
12:08 AM
Finally saw Alice in Wonderland today! And I couldn't be any happier, thanks to Gersh!:) I waite...
Finally saw Alice in Wonderland today! And I couldn't be any happier, thanks to Gersh!:) I waited 1 year for this movie and it was sure worth the wait. The movie just brought me back to my childhood days, especially hearing familiar lines like, "OFF WITH HIS HEAD!", "I'M LATE!", "CURIOUS AND CURIOUSER" and "DRINK ME." I love Helena Bonham Carter as the Red Queen. She really rocked it, Anne Hathaway's graceful moves were quite funny and Johnny Depp as the Hatter was just amazing. I loved it when he spoke in riddles, poems and in Irish. Even with all the thick make up he still looked hot! (Be still my beating heart!) But of course it wasn't purely like the original version of Alice in Wonderland. It had some Tim Burton touches to go with it and that's what made the movie more interesting for me. Enough said. I don't want to spill too much details about the movie, but all I can say is, Too much Alice and not enough Johnny Depp scenes! Hahaha. =p
Anyhoo, about the outfit I wore to the movie, I didn't go over board anymore by having an Alice in Wonderland theme color, but instead I just accessorized and let it have the A.I.W feel. Even the phone tried sporting the Wonderland vibe. ;)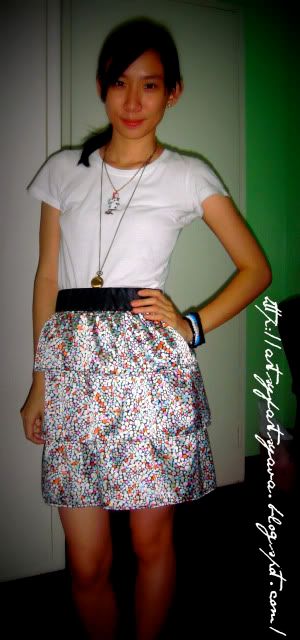 Neck pieces: Card Guard from Fashion Factory and Pocket Watch from Anagon
Bracelets: Cat Bangle from Just G and colored bracelets online
Cell Charm: Cheshire Cat from Strapya
I really enjoyed the movie. It was a good stress buster from this awful week filled with exams and lined up projects. Thank you again, Bie for the movie treat! This couldn't have been possible without you! Tee-hee. =p If you're an Alice in Wonderland fan like me, go watch it! I'm sure you'll like it too. :) Well, now my wonderland adventure is over and I need to go back to reality and face my school work. Tahtah!
ALICE by AVRIL LAVIGNE